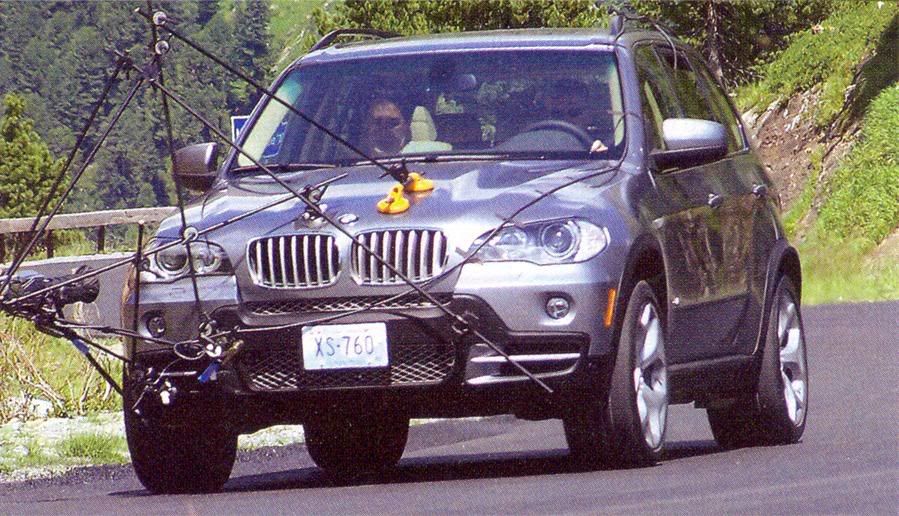 ***UPDATED SEE OFFICIAL PICS HERE: 2007 BMW X5
Optional 3rd row seats
--
367Hp 4.8 & 264Hp 3.0 petrol, 272Hp 3.0 twin turbo diesel
--
iDrive & Active Steering
--
Improved Driving Dynamics
--
Sales commence early 2007
Last week, we saw the unveiling of the Audi S3 quattro (click here: Carscoop). Now its time for one the biggest showstoppers in the forthcoming Paris Motor Show: the 2007 BMW X5 (E70). According to my sources, Bimmer's second generation luxury SUV is going to be revealed in the middle of the upcoming week. Besides that, I learnt some very intresting facts on the all-new Bavarian SUV.
For the first time, BMW is going to offer an optional third row of seats (suitable for two children) which fold into the floor when not in use. With the two extra seats in their position, the X5's boot space will be a little over 200 litres (VDA) and while folded, about 650 liters!

To fit the extra row of seats, the new X5 has grown in length (about 4.850 mm / 191 inches from 4.677 mm / 183.7 inches). In terms of design, as you can also see from the uncovered spy picture that has leaked in the net (via Autoblog.nl) the 2007 X5 retains most style elements of the current model as BMW decided to follow the road of evolution. All around, the X5's exterior design is more stylish than the model it replaces with softer edges blending with Bangle style flame-surface.
In the interior, the 2007 X5 obtains the new 5 Series dashboard -hopefully with better quality materials. The main differences concern the double side air vents and the wider lower part of the centre console with the controversial i-Drive system. Besides the i-Drive system, the new X5 will come equipped with BMW's Active Steering system which hopefully will not be standard.
In regards to the engine range, the new Bavarian SUV will be presented at the Paris Motor Show with two new petrol engines, the 265 Hp 3.0 6cylinder and the 367 4.8 V8 and one diesel, the highly acclaimed 272 Hp 3.0 twin-turbo 6cylinder. The engine range is expected to grow rapidly after the car starts its career in Europe and the USA in the beginning of 2007 .
Power will be driven to all four wheels through BMW's latest generation xDrive 4wheel drive system. As for driving dynamics, BMW officials promise not only to maintain but to improve the current X5's excellent on-road manners. Stay tuned on Carscoop for more upcoming information concerning Bimmer's all-new 2007 X5.
Technorati: BMW+X5, SUV, Paris+Motor+Show, 2007, specifications, auto+news, automobile, autos, vehicles, automotive, cars